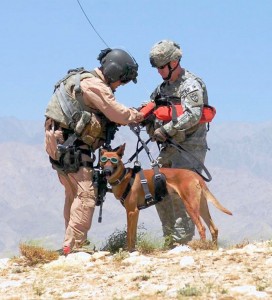 Constant threat of portmanteau: Standing aside an object long enough may result in its inclusion in the fabric of your being. A dog aside goggles becomes doggles, goggles shaped for a dog. A cat aside turkey becomes a tark, a turkey with a cat's confused head, slavering over a turkey's frightening thighs and flapping wings…
Doggles
Doggles protect copter-dogs from dirt in the eye and
dirt in the mouth—from dirt gurgles, durgles, or dirgles.
The spelling is as variable as the problem is invariant,
like the problem of the dogs' goggles themselves.
(One Googles the problem to find it is pre-solved—
available as commodity, reified as object of study, or
studject, as one has heard said.) But what protects us
from the doggles—their charm, their wist and moxy?
What prevents us from buying a pair for a cat (caggles) or
from donning ourselves "The Goggles of the Dog" (the title
shared uneasily by both a sub-par 60s sci-fi thriller and
an Alaskan dream-metal super group, castoff members
of Hate Goggles and Dog of the Bible)? Questions uneasily
sit between eye and nose, unscratchable, out of focus,
as the dogs' goggles must be. Still they are happy:
Sand and dirt once lacerated a long-lashed shepherd, but
today's hound of war (hoar) faces the day with shielding style.