Here's what our site used to look like, which you can still see at http://hollowearthsociety.com/originstory:
About the Hollow Earth Society
For over one hundred years, the cabal of artists & scientists known as the Hollow Earth Society has probed the world's most bizarre and pertinent mysteries via an ever-mutating set of handbooks, rogue histories, and practical manuals.
Dedicated to re-sculpting history and to promoting its own elegant–impossible futures, the Society is currently is led by Colonels Ethan Gould and Wythe Marschall of Brooklyn, New York.
Our mission is crystalline:
To chart the Pasts that could have been,
diffract the possibilities of the Present,
& make always strange & new the Future.
Our method is exacting:
The Hollow Earth Society creates books (words & images).
We also produce websites that accompany and expand upon the ideas in those books, as wel as events that, more often than not, mock those books, websites, and the Society itself.
Each book–site–event examines a specific "real" art or science (anatomy, zoology, the myths of ancient Greece, the history of the American West) and strikes out along a perpendicular, heretofore unnoticed path—not in opposition to reality, but flat with reality, alongside reality, as the shadow to the lighted object.
Our projects are mesmeric:
"Helpful Workbooks On Your Difficult-To-Navigate Secondary Body."
Beginning with a reprinting of the classic Workbook No. 15: The Human Cranius, Suspicious Anatomy provides the first-year medicologist with a set of tools for treating (hunting) the fascinating and often deadly night-body.
From The Human Cranius:
The cranius (pl. cranii) is an organ-system of the body. Or the body is an organ-system of the cranius.

When the cranius must be operated upon, the cranius must be brought fully, visibly out of the body via an involved surgical process: It must be hunted.

This term is used in honor of William Hunt, the British cranusoidoxologist who first successfully opened a patient's cranius (though he was unable to penetrate the metacarapace).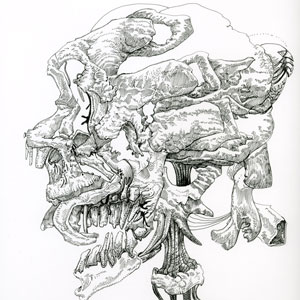 The art, myth, & madness of the world's earliest civilization.
Amuletics, created in association with the Institute of Amuletics, is an ongoing investigation into the art and semantic heritage of "Culture X," a lost Near Eastern people who flourished during the Early and Middle Bronze Age.
From Amuletics:
By Stage IV [Classical Xian], previous artifacts are undug and modified; ancient artifacts paired with seconds, reburied, or used in ritual—i.e., recarved with symbols representing the Great Unburial, already steeped in myth even as information about the early past is gleaned from the old…

Representations are made of precious stone and ivory; they're given more formalistic poses; covered in stars, planets, fish, other assorted sea life, boats, and houses…

Common motifs from this period include iterative designs—stag horns, leopards, okapi, skulls within or beside smaller skulls, two- and three-headed birds, double-pointed arrows, club handles, and infinitely spiraling goat horns.