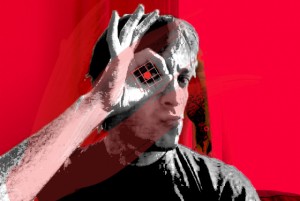 Cyborgs as we collectively imagine them are a wholly aesthetic construction, and an outdated one at that.  That's ok!  We love our retrofutures here at HES and the lovely effects they have on our eyeballs. The quaintness of a process that relies entirely on the addition of artificial body parts means we get to indulge in nostalgia for previous versions of the future, all gleaming chrome or swooping, greebled black plastic; the more recentish penchant for turning heads and thighs into ipod modules giving way to intricate body adornments more akin to darkwave fashion, always with a vision forward, always with a vison backwards…the 'back to the forests' trope of postapocalypticism combined with the mainstreaming of fetishistic body coverings means notions of cyberpunkery are purling around animal masks, leather tooling, Victoriana and Americana…
Cyborgs were initially conceived as a space colonist rigged with a homeostatic tubework of drugs and gases, which makes for a less appealing Halloween costume in middle school than glueing silver painted cardboard and wires to a headpiece.  In retrospect, it is also the future as conceived by a crazy person. Advances in artificial limbs and restoring senses and bodily functions have still not taken on the term cyborg, because while it's cool to call yourself a cyborg, it is not a name people say to someone who has had their legs reconstructed.  Its fictional life in both heroism and villainy and its design heritage through decades of pop culture have divorced it from mainstream adoption. Prosthetics are about reestablishing normalcy of motion: cyborgs are about going  smashy stompy on normalcy with lasers and crusher hands.  Just watch a cartoon.
Meanwhile, the parent field of cybernetics, of systems and feedback loops, has completely changed our world: serious proposals of information and human symbiosis date back to the fifties, and those early efforts have seen universal adoption in the developed world, a phone with a screen in every pocket, and a fruition of early desires to augment human intelligence with a constant stream of hideous, bleeping distraction.
Soon our daily dose of networked infogrinding in beeping pocket lozenge form and our fantastical notions of a semi-headpiece with an augmented, dropdown display may merge: if it happens, we're going to find ourselves in a design world where the skeins over our extraparts will have all the variety of current body sculpture and fashion, themselves influenced by earlier visons of a punked, laser-eyed future: when some do look like the past's future, it will definitely be out of nostalgia.  Feedback loop.