—being a report of our work for Elsewhen at the Elsewhere Collaborative in Greensboro, NC. As part of this unusual residency, we've generated stories, videos, classes, happenings, and even a new para-academic conference:
The Longest Story Ever Told – Saturday, April 21, 2012/ongoing – Almost as soon as we arrived in the Greensboro of 2012, we helped the Elsewhereians here (together with the Weatherspoon Art Museum at UNC Greensboro, a local Fresh Market grocery store, and several bewildered kids) to instigate the longest story ever told—a scroll of sentences from different Living Library books that constitute a single, ongoing fiction. The scroll is also pulled into the ethernets via a series of audio and video recordings of the various sentences.
Time will tell if this mega-story turns into a chronotextual vortex and sends some unsuspecting schoolchild into a new epoch. Or if it makes sense. We theorize the scroll will, at least, be both beautiful and unparalleled elsewhere.
Though, big note, this project is easy to repeat with any archive! Try to organize a coherent, evolving, epic narrative out of the parts you have. Try it and report back.
Field data from the Elsewhen experiment with Super-Long Story Tactics (SLST):
Future Tarot – Saturday, April 28, 2012 – On Obscura Day, as a lead in to Post-Space, we conducted a constrained writing class with a group of especially awesome George Mason students. Taking Calvino's The Castle of Crossed Destinies as our model, Ethan developed a new set of "tarot" cards using images from books in the Living Library.
Stephen, Ethan, and Wythe then led the George Mason students to pair up. One partner told a story without words (using only the iconic—but, here, often technological—images on the cards) while the other partner wrote what she thought was going on. Then the partners switched, developing a new silent story and a new incorrect prose-reading of the visual story. This technique was fun, to say the least. The stories veered from dinosaur-inspired action to socialist revolution tale.
But perhaps the sharpest, funniest, most affective narrative moments were generated by us as a group, laying out the cards in a traditional tarot cross, flipping them over one by one, taking turns reading into them a new turn in the life of the story's protagonist, a mustachioed young rogue pictured on the first random card. The rogue went on to give up crime for art, then art for connection with his fellows—leading him to create Facebook. Yes, Dear Reader, we told, as a group, the story of Mark Zuckerberg, pirate and painter!
We recommend the Future Tarot technique to everyone interested in constrained writing, especially constraint that merges image and text.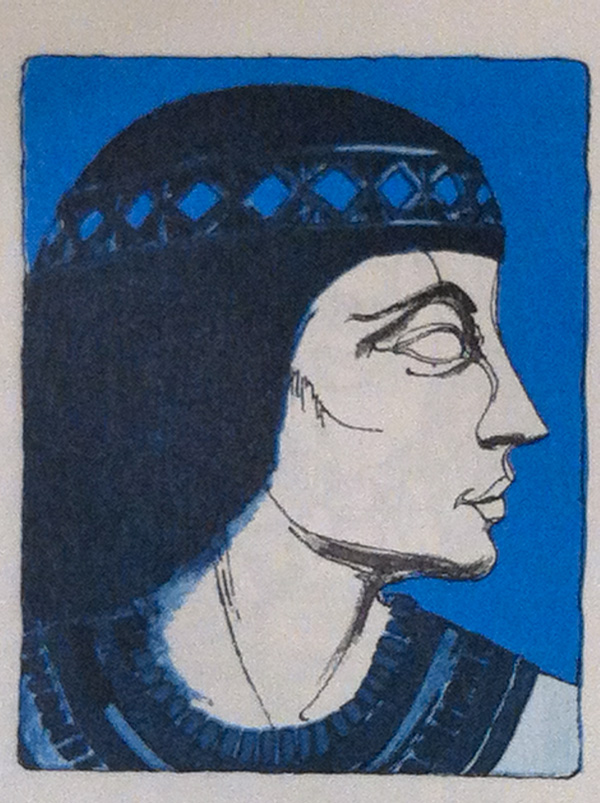 Post-Space 2012: Library/Museum/University – Saturday, April 28, 2012 – The highlight of our residency at Elsewhere was the inaugural Post-Space conference, to be held on Obscura Day as part of the Hollow Earth Society's ongoing commitment to pataphysics and the para-academy: We want to interrogate the literal dimension of space as it changes, in our minds, due to tele-technologies, remote control, cyber-ing, databasing, etc., etc., etc.
For this first event, we started simple: What will become of nonprofit spaces such as libraries, museums, and schools? We asked this three-part question to several artists, scholars, including four who joined us live via Google Hangouts on Obscura Day for a final panel—Eileen Joy, Meg Backus, Thomas Gokey, and Aaron Beebe.
But before the live, one-hour panel discussion—which was energetic and so jam-packed it is still happening, via email—we showed video from our interviews in New York and also heard from Elsewhere co-founders George Scheer and Stephanie Sherman. George and Stephanie have recently embarked on a second post-space nonprofit place, Kulturpark, in East Berlin.
Huge thanks go out to all who helped make the first Post-Space conference possible, in all three ways (live, taped, live-on-the-internet). We look forward to another great Obscura Day in 2013!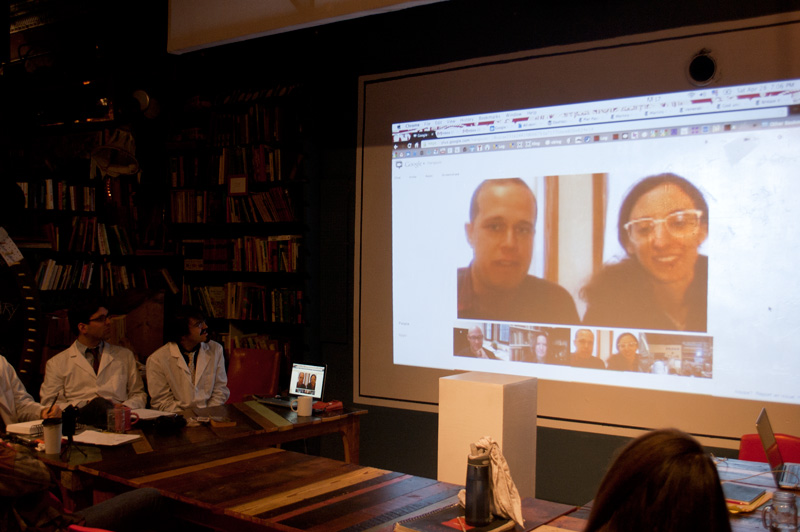 The opening of the Living Library – Friday, May 4, 2012 – For the official opening of Elsewhere's Living Library, we added signs calling out the various newly determined, not quite organized sections of the library; then we got back into labcoats and challenged the city of Greensboro to bring us books, copious books—which we would then melt together using the power of time-limited illustrated storytelling.
Using the "NARRATRON 9000"—a metaphor machine made of foam, colored lights, wire, paint, fabric, and a lot of derring-do—we generated dozens of illustrated short-shorts, all within 2 minutes (timed using one broken egg timer, two iPhones, and often one or two overly enthusiastic children counting loudly).
This was one of the most fun performances/art-making happenings we've been a part of. I recommend anyone a NARRATRON 9000 to interested in showing off a particular book collection.

More Elsewhen updates and images soon!